Lou Butkovich
Dear General Manager,
On a recent trip we noticed our brakes were pulsating and our Acura shook. We decided to take it to the Ford Garage as we just had our pickup brakes fixed. We felt you did outstanding work.  We approached Cory Ledgerwood and explained our situation. You were extremely busy and Cory suggested that we bring it back on the next Thursday.  Cory is very accommodating, our brakes were fixed and we are "on the road again".
THANK YOU VERY MUCH!
Lou Butkovich
---
Rick Feather
We were away from our Kennewick, Wa home when our 2012 Ford Focus broke down, a transmission problem. AAA got us an appointment at a shop in Chelan, to their credit, when I called them, they recommended that I have the car towed to Town Ford. I called Town Ford and the service department said that they were full up. Anyway I had no choice but to take there. They had us up and running by the end of the day. Very friendly service and they did everything they could to accommodate our situation. A big thanks to the Service Department for installing a transmission control module which was a warranty call back, at no charge to us. Thank you for your integrity and accuracy of the diagnosis.
Rick Feather
---
William McCunn - April 15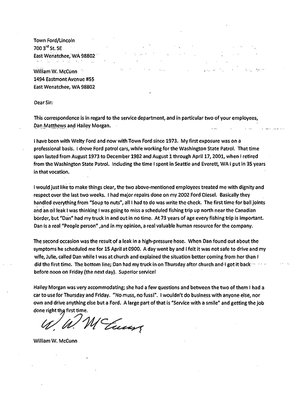 ---
Laura McNamara - January-28
Dear Pat
I wanted to take a moment and commend you on an outstanding Employee you have in your Service Dept who helped me last Thursday the 21st and the previous Tuesday, January 12th.
When I came in on Tuesday I had my husband in the back seat of our Explorer and was getting ready to take him to the Dr's because of his acute Spinal pain.
Fernando directed me to the Parts Dept so I could order a part for my seat and then was very courteous about making an appt for me in a very short time frame on Thursday the 21st after I picked my husband up from outpatient surgery at the hospital. I didn't want to leave my husband for very long and Fernando personally installed the part for my seat and got me out of there in under 1 hour and got back to the hospital in time to pick up my husband just as he was coming out of surgery.
As you can see, being in the hospitality business; I take customer service very seriously and so wanted to let you know what a valuable employee you have in this courteous, efficient, intelligent young man!
If I am ever in the need of another Ford (we have 5 :) I will be sure to head over to Town Ford and speak with what I am sure is a knowledgeable and well trained sales staff!
I am sure you hear many stories of 'my car doesn't run right' or "what's wrong with my car?"-- so I wanted to take a minute to share some 'good news' for your Team!
Warm regards,
Laura McNamara
---
Jim and Lois Macke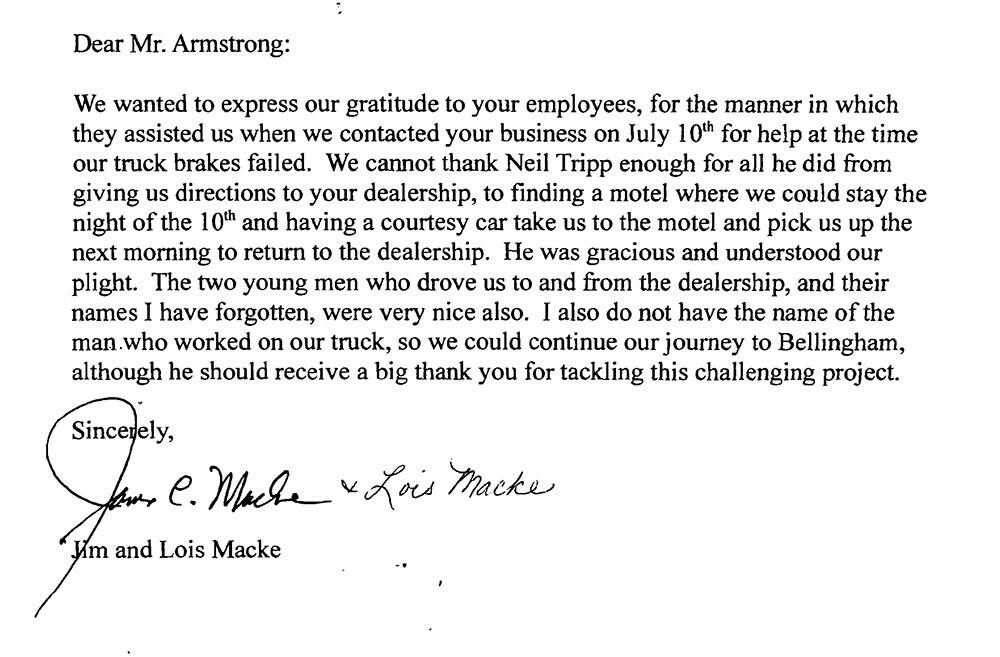 ---
I want to thank Dan Mathews for the time he took in getting my pick-up fixed. It was a good experience even though you hate to have major vehicle problems. Dan kept me informed on the progress on my vehicle. Thanks goes out to Dan, and also Dave B. for giving me a vehicle to drive while my pick-up was getting fixed. I was very please to do business with Town Ford.
---
Damon Ross - January-26
Hi Pat. I don't do this often but I thought my recent visit to Town Ford warranted a response.
I just got a note in the mail saying to fill out the survey card if I got one, which I didn't. I still wish to give feedback to my recent visit for a repair on my car.
I am incredibly pleased by the care and courtesy shown to me by everyone I encounter there, every time I come in. This recent visit I was very well taken care of by Fernando Mago, who went out of his way to answer my questions and make sure everything was set with a clear course of action on the entire repair process, as well as taking the moment to provide personal service as simple as helping me locate my car when I was ready to leave. He and your service staff there went above the call of duty.
The other instance I encountered was while I was looking around for my car before they had pulled it around for me. I didn't catch his name, but there was a gentleman on a ladder on the back side of the building changing a lightbulb. He noted me looking around and stopped to ask me if I needed any help. It is attention and connection like that which makes customers feel like they truly are the important part of your business.
Thank you for what part you play in creating a very welcoming and caring atmosphere at Town Ford. I have been very satisfied by every experience I have had there, from the purchase of my car to each and every service call. I may not be a strictly Ford-brand person, but I would love to remain a Town Ford customer and refer my friends and family there as I can.
A Happy Town Ford Customer,
Damon Ross
---
Howard Maier - August-20